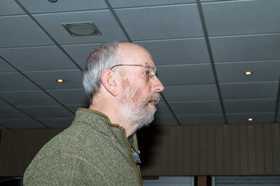 The Chairman, Keith Gillett, opened the meeting and entertained us with stories of broken projectors, multiple venues booked, and (week) early arrivals for the meeting.
Andy Burt, NMC's Conservation Officer, provided an encouraging update on recent developments regarding the critically important issue of mullet conservation, particularly the new netting byelaws which have now been passed by the Cornwall~ and also the Devon & Severn IFCAs. He also presented a draft of the new National Mullet Club mission statement, a measure which was later strongly endorsed by Martin Salter of the Angling Trust. The intention is to state clearly and unambiguously where the Club stands with regard to the recreational capture of mullet and also with regard to wider concerns, including conservation and commercial exploitation. The next stage will be to produce a final agreed wording for approval by the Committee, which will then appear 'front and centre' on the NMC website homepage.
Martin Salter provided an update for the second successive year regarding the ongoing work of the Angling Trust. Later in the day, he presented an interesting and enthusiastic account of some of his overseas fishing adventures. The varieties of species included, amongst others, were kingfish and baramundi in Australia, peacock bass in the Amazon, and sturgeon in British Columbia. It was impressive to see his video of a sturgeon of over 100lbs leaping clear of the water, a species which can grow much larger than that, and which is clearly capable of challenging the most robust equipment.