Jerry Phillips receives the first of several awards for his impressive 7lb 12oz fish, which was the best thicklip of 2017.
... and a second.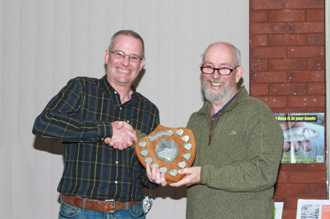 Andrew Boyd receives the East Coast shield for his 5/04 thicklip.
Alan Kings collects the award for the largest fish-in thinlip, at 2/13.
Gary Brooker with the first of two awards for his 7/07 thicklip - the National Rover shield.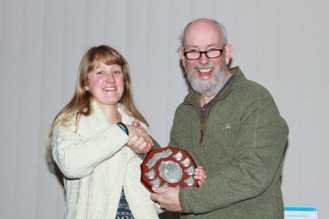 Jenny Kent collects the Ladies' Trophy for her 4/01 thicklip.
Paul Howe capitalised upon his fewer fishing opportunities during 2016 to win the Dorset shield for his 5/04 thicklip.
Jerry Phillips with the third of the trophies received for his 7/12 specimen, which was caught during one of the NMC fish-ins.
Gary Brooker receives his second award, the Sussex shield, for his excellent 7/07 thicklip.
Dave Matthews' productive foray across the border netted him a 6/02 thicklip and the Wales Trophy.